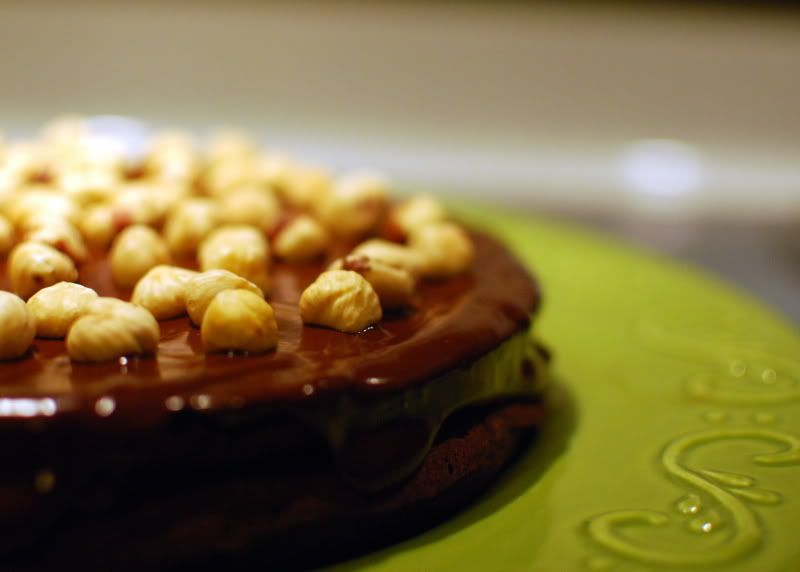 My sister loves Nutella. But honestly I have never met anyone that didn't love Nutella. So for her birthday she wanted a Nutella cake. I found Nigella's cake and decided it looked really amazing and I had to make it for her.
The cake is flourless, making it gluten free as well. It's surprisingly simple to make, too!
Besides a springform pan, you will need the following cast of characters: (Note: I'll list the amounts and exact directions below)
First step is to grind up the hazelnuts into a powder. I used a blender. If you use a blender, be sure to only pulse it so that the heat of the blades doesn't liquify the nuts. They should look like this when done: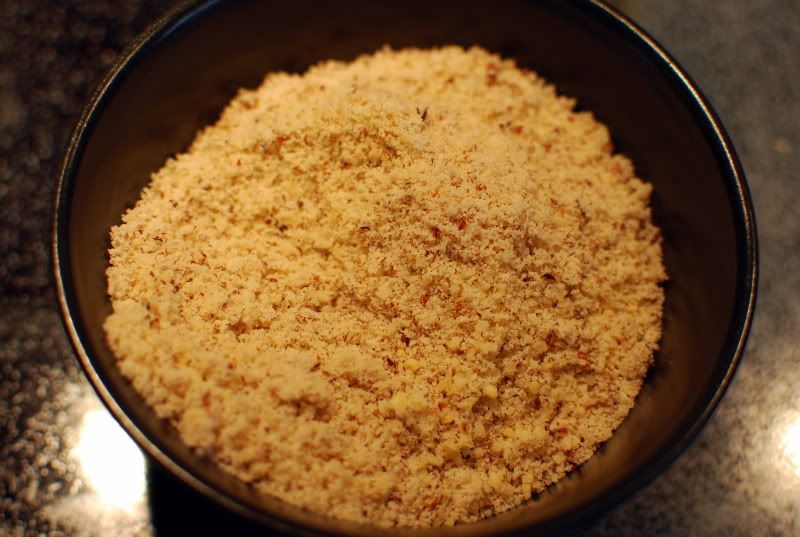 Next, melt the chocolate and set it aside so it can cool. I had to try not to "accidentally" stick my fingers in there to taste it.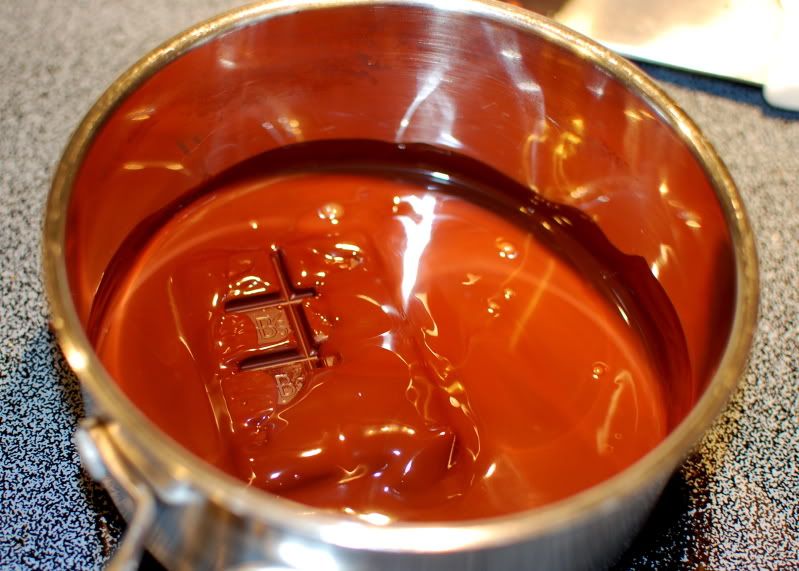 Now, whip up those egg whites!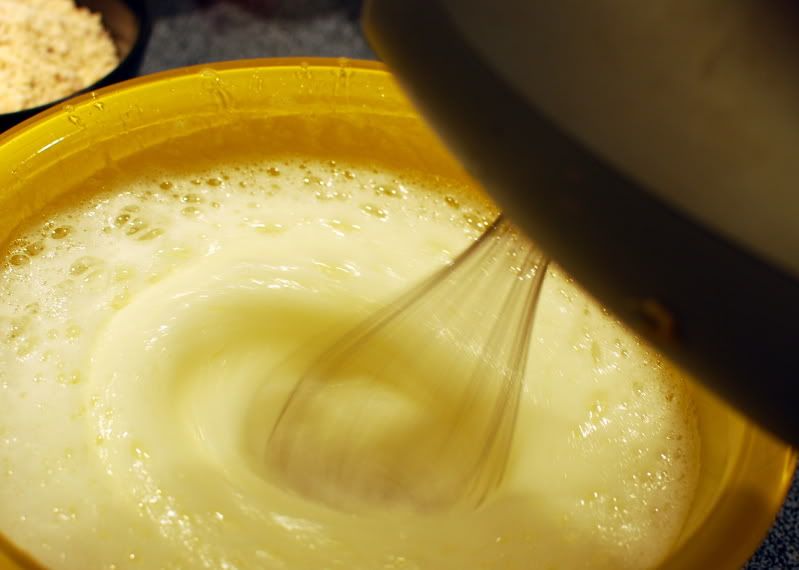 Then make the rest of the cake batter (which only contains Nutella, egg yolks, butter, rum, and melted chocolate.) Yum.
After the batter is done, fold in all the egg whites and pour it into a buttered pan and put it in the 350 degree oven.
Now, toast up some hazelnuts in a frying pan (don't use oil or anything). Use med/high heat and mix them CONSTANTLY. They will burn and get ruined and you will be sad, and have to throw them away.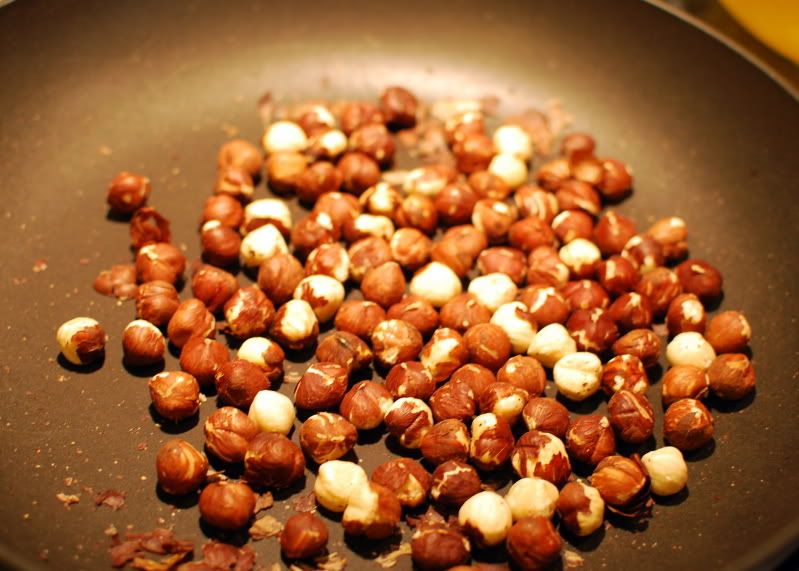 Once they are heated through and starting to brown (some of the shells will fall off in the frying pan), transfer them to a towel and rub them, and most of the rest of the skins will come off as well.
OK.. Then make the ganache.
By now the cake is out of the oven. Let it cool! Top with ganache and toasted hazelnuts, and voila!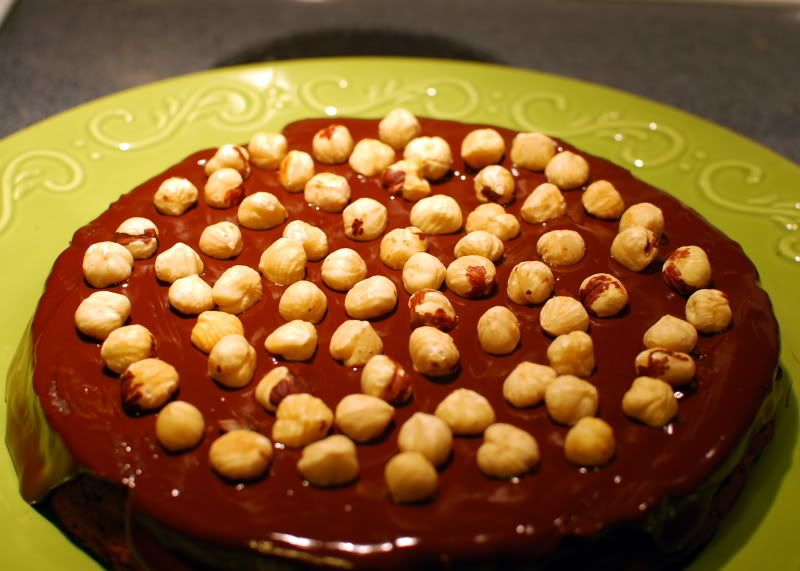 Complete Recipe
Ingredients
Cake:
1/2 cup finely ground hazelnuts
6 large eggs, separated
1/2 cup unsalted butter, softened
1 13-ounce container Nutella
1 tablespoon rum or Frangelico (I used aged rum)
4 ounces semi-sweet/bittersweet chocolate, melted and
cooled (I used 72% and it came out great. Use what you like!)
pinch of salt (approx 1/8 tsp)
Ganache:
4 ounces whole hazelnuts
1/2 cup heavy or whipping cream
4 ounces semi-sweet/bittersweet chocolate (I used 72%)
1 tablespoon rum or frangelico
Instructions
Preheat the oven to 350 degrees.
Butter a 9-inch springform pan. Don't skimp, make sure the butter gets into all the crevices of the pan. We don't want this lovely beauty to stick!
Next, In a large bowl (metal works best, but I used glass and it was fine),
whisk the egg whites and salt until stiff. I used a hand mixer. Start first on low, then once it starts to get thicker you can gradually increase the speed. Start out too fast and there will be egg whites all over your walls.
In another bowl, with a mixer, cream the butter and Nutella, then add
the rum/frangelico, egg yolks, and ground hazelnuts.
Fold in the melted chocolate gently.
Add a scoop of beaten egg whites to the chocolate batter, and mix gently until well-combined. Best to use a rubber spatula and be very gentle so as not to break the egg whites.
Fold in the remaining whites a scoop at a time, mix very gently but thoroughly.
Pour into the buttered springform and bake for 40 minutes.
Test for doneness by inserting tester, which should come out mostly clean; lightly pressing finger into top to check for a slight bouncing-back; and observing edges beginning to separate from pan.
Let cool completely, in pan, on a rack.
Toast the hazelnuts in a dry skillet shaking them around frequently.
Do this until they are lightly browned. If the hazelnuts came with the skins on, simply put them in a kitchen towel after toasting and rub around. This will remove most of the skins from them easily. Cool them completely before using them.
For the Ganache, break or chop up the chocolate, and add to a sauce pan with the heavy cream and the rum or frangelico. Heat over medium to low heat until mixed. Whisk it until it is silky and gorgeous.
Important - let it cool!
Assembly-
Take cooled cake pan out of springform pan. Top with cooled ganache. I like to let it drip over the edges. You can be neat about it too if you like :)
Sprinkle or arrange the hazelnuts on top.
Enjoy!