I have to say I have never really been a fan of peanut butter. I hated how it stuck to the roof of my mouth, how it was too gritty, too chunky, or just plan something I just wasn't ever in the mood for. I never craved peanut butter
anything.
I didn't even really enjoy Reese's peanut butter cups - I just felt that there were better candy / dessert options out there. Well, you know how people's tastes change every so often? Mine has - big time. I now literally cannot get enough peanut butter! I think I may even have had a dream about peanut butter the other day.
I got a new Kitchen Aid mixer for a wedding present and so I decided to whip up a batch of cookies (peanut butter, of course). I couldn't just do plain peanut butter - I had to add chocolate chips :)
OK so on to the cookies! Here are the cast of characters: (I'll post the full recipe below)
Basic cookie ingredients - nothing too fancy - flour, sugar, vanilla, butter, an egg, salt, brown sugar, baking soda, oh, and peanut butter. I use natural peanut butter because I don't like the idea of hydrogenated oils in my cookies. There's something not quite right about it. Anyway, I found some of the natural peanut butters can get a bit gritty - so for these cookies I used Skippy Natural, which is as creamy as the peanut butter with the hydrogenated oils (so tell me again why we need these silly trans fats??)
I have to say my Kitchenaid mixer is THE BOMB. I love how easy it all was!
Once they were all mixed up, I rolled them into balls and placed them on a cookie sheet. Then take a fork and smoosh the cookie down till it's flat and has a nice criss cross pattern on it.
Bake them and enjoy the aroma of cookies. There's nothing like the smell of fresh baked cookies!
Take them out of the oven and try to let them cool off a bit before you eat them. I couldn't wait that long and burned the roof of my mouth. Some day I will learn about restraint.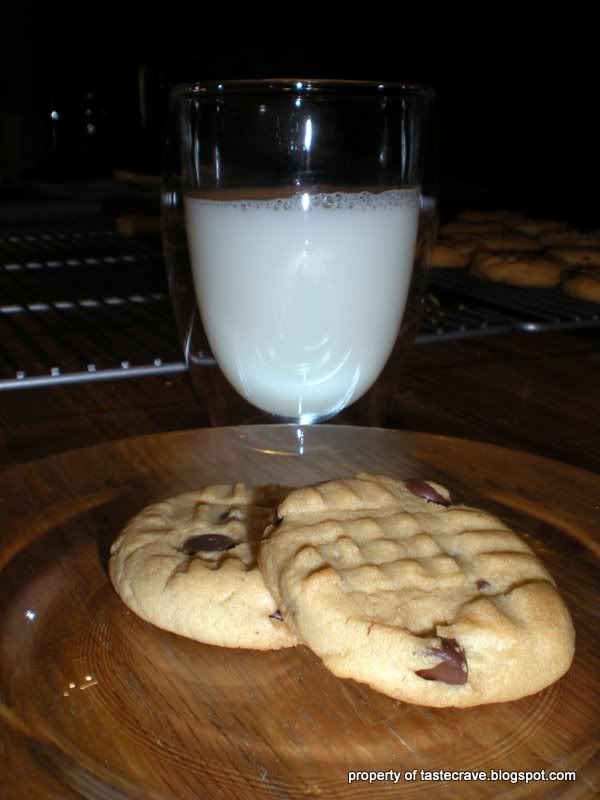 Serve with a big glass of cold milk !
Here's the recipe:
Ingredients

1/2 cup smooth natural peanut butter
1 1/4 cup all purpose flour
8 ounces semi-sweet chocolate chips
Kitchen Tools Needed:
Mixer (either a stand mixer or hand mixer)
Cookie Sheet (s)
Spatula
Wire racks for cooling
Instructions
Preheat oven to 375 degrees.
Cream butter and peanut butter in mixing bowl. Beat until smooth - about 1 minute.
Add sugar, brown sugar, egg, and vanilla - beat until combined.
Mix flour, baking soda, and salt together, and gradually add into the wet mixture. Mix until well combined.
Add in chocolate chips and stir gently.
Roll dough into 1 inch balls and place about 2 inches apart on an ungreased cookie sheet, or a sheet lined with parchment paper. Press flat with a fork in a criss-cross pattern.
Bake until golden brown - 10-12 minutes. Be careful not to over cook, these can get a bit dry..
Remove from baking sheet and cool on a wire rack.
Variations
Skip the chocolate chips
Add butterscotch chips
Add peanut butter chips
Combine peanut butter and chocolate chips together
Add in some chopped nuts
The options are pretty much endless :)
Enjoy!